Its time once again for me to get insulted and called names, with this week's Huffington Post Comments.
I only copied the comments to here that I got a response to. In the future I may try and highlight some of my comments that don't get responded to. If no one replies, then those comments may be better?
We start right out with name calling, how much fun is that?
***
Me
(In response to an article that says polling shows an Obama Lead):
I'm still convinced that the healthcare socializer from Massachusetts will beat the healthcare socializer from Illinois/ Hawaii/ Indonesia.
sammi 56
Your're are too late timmy-- people are aready reaping the benefits... you'll have to pry it out of their cold dead hands!!!
Me:
Benefits indeed.
8.3% unemployment and no improvement in the "employment rate of the population."
http://market-ticker.org/akcs-www?get_gallerynr=3510
***
YupIndeed
Mitt, you don't know what you're talking about. Period. How about you spend a couple of days with public school teachers, work in their classrooms, watch how the average day in the life of a teacher pans out. Don't start preaching about something you know nothing about.
Me:
Are you suggesting that someone who grew up in Indonesia and who went to school at Harvard (Obama) has a better understanding of public schools than does Romney?
johannesrolf
by their actions you shall know them. Obama understands everything better than Romney, who went to private school and his sons who also went to private school.
Me:
Obama went to Harvard. Remind me, is Harvard a private school?
Obama's children go to public school.
http://www.cbsnews.com/2100-250_162-4625929.html
By what measure have you decided that "Obama understands everything better"?
johannesrolf
I believe we weren't talking about University.
Me:
No comment on where Obama's children go to school?
(Obama's kids go to private school, fyi.)
johannesrolf
get real.
When Obama went to public school, he was a nobody, and son of modest parents. His children are something else entirely, daughters of A Senator, a famous author, and a rich man. No comparison.
YupIndeed (in response to my first comment in this section)
Yes. Yes I am.
Me:
How did you come to that conclusion?
Is it because Obama has a D next to his name, or is it because he wants to tax the rich?
***
kent4620
Public employee unions at their finest.
David Ewers
Attacking teachers, what happened did they hit you with a ruler when you were younger?
Next time you have a pot hole in front of your home, tell those public employees what you think of them
Me:
Why?
Will they delay filling it for more than the days and days and days it takes them to fill the holes now?
David Ewers
go try it and find out
Me:
Why would you be suggesting that I purposeful antagonize someone?
It doesn't make sense for you to be opposed to "attacking" teachers and encouraging "attacking" other public employees.
You are not being logically consistent.
***
PWM
It is time that all Americans realized that the place of labor is side by side with the businessman and with the farmer, and not one-degree lower.
President Harry S. Truman (1945-1953), 1948
Me
:
All Government employees should realize that the process of collective bargaining, as usually understood, cannot be transplanted into the public service. It has its distinct and insurmountable limitations when applied to public personnel management. The very nature and purposes of Government make it impossible for administrative officials to represent fully or to bind the employer in mutual discussions with Government employee organizations. The employer is the whole people, who speak by means of laws enacted by their representatives in Congress. Accordingly, administrative officials and employees alike are governed and guided, and in many instances restricted, by laws which establish policies, procedures, or rules in personnel matters.
-Franklin Delano Roosevelt
http://www.presidency.ucsb.edu/ws/index.php?pid=15445
PWM
Good point. But we have unions and labor contracts - since our politicians created this situation they cannot just pretend it no longer matters.
Me:
This is merely one example, of many, where we have a problem, such as poor education, where the democrats solution is always to spend, spend, spend, and never mind the consequences.
I am not suggesting that this problem does not matter, but this article points out that the teachers in question want more pay without pointing out that the average Chicago teacher makes around $76,000 before benefits.
A sensible idea would be to question why these teachers want more without showing good results from their students. Illinois has budget problems, and rather than help, these teachers want more from the taxpayers.
***
justice1906tamu2
Mitt, as a "businessman" surely you understand that if you aren't making the money you should be making for the job that you are doing, you don't work. Are you saying that you would have worked for Bain Capital for free?
Me:
Those poor, poor teachers of Chicago. Only making $76,000 per year before benefits.
By comparison, teachers in New York City earn an average of $73,751. That would be less than the average $76,000 average salary for Chicago teachers cited by CPS, but more than the $71,000 average cited by the union. Depending on which is accurate, Chicago would either be first or second in the nation in average teacher salary. However, Los Angeles teachers make $67,600. The number drops to about $54,000 in Dallas, and just over $52,000 in Miami."
-
http://chicago.cbslocal.com/2012/06/12/how-much-do-chicago-public-school-teachers-make/
How do they manage to get by with such low salaries?
justice1906tamu2
I'm a teacher with a masters and an engineering degree. I make about $48,000 base salary in Houston. I know what I do daily, and I feel like I'm extremely underpaid. I also know what kind of salary an engineer makes for what they do. Although admirable to take a pay cut to do something I love (I run a tutoring service too), many of our greatest minds stay in the private sector simply due to pay. Teachers work harder than 90% of the professions out there, and I'm credible because I've done both.
Me:
So you get summers off, better pay than the average American, better benefits than nearly anyone, and you want more money while most governments have serious budget problems?
justice1906tamu2
What summers off do you speak of? That is a gross misconception. My summers are spent in staff development, peer evaluation, teaching summer school, and broadening my own professional skill set. Let's not forget that I also run my own small business. It's funny that people that are not in education have so many misconceptions about the field. I have worked as an engineer as well, and hands down, it is a much easier profession than education.
Me:
I notice that you did not object from getting better paid and better benefits than the average American.
Running your own business does not mean that you don't have summers off from school.
May I ask what sort of engineer you were?
I'd like to see you debate, say, an oil rig worker about who works harder, or a roofer, or a septic tank pumper, or an ambulance driver, or a surgeon, or....
justice1906tamu2
Oh, and as a teacher, one does significantly more than the "average American". Teachers have the responsibility of keeping America great. They should be paid significantly more than the "average American". To that point, what benefit does a CEO bring to society to justify tens of millions of dollars a year? Or why does a investment tycoon deserve hundreds of millions of dollars? What value do they bring to society?
Me:
You would have a point if the education system in America was great. Do we not hear stories every month about how poorly American kids do in reading and math compared to the rest of the world, which spends less and gets better results.
Its not the job of you or I to decide what people in the private sector make. A public employee, however, is getting paid with the tax dollars of the private employees and businesses.
Most states, and the federal government, have not balanced their budgets and have huge amounts of debt. We spend a tremendous amount on education already, and teachers want more, more, more.
If we got more bang for our buck with the dollars we have already spend on education and if the governments would stop their deficit spending and pay off their debt, then you would have a case for spending more on education.
"Over the last four decades, the per-student cost of running our K-12 schools has more than doubled, while our student achievement has remained flat, and other countries have raced ahead. The same pattern holds for higher education. Spending has climbed, but our percentage of college graduates has dropped compared to other countries."
http://www.huffingtonpost.com/bill-gates/bill-gates-school-performance_b_829771.html
graph at link: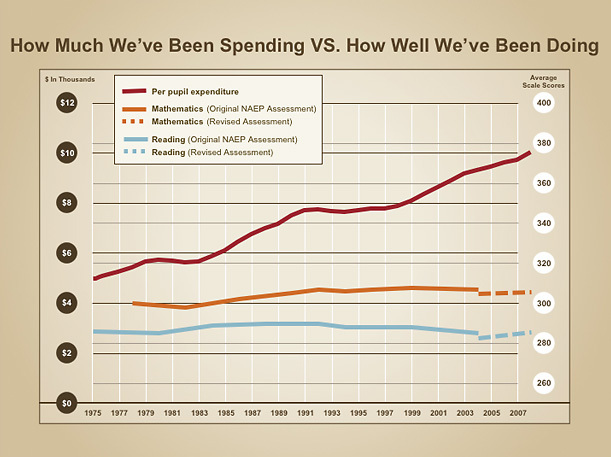 justice1906tamu2
Obviously your teachers weren't that great. The point I was making is that CEO had several teachers that guided him academically to get to the place where he was able to assume that role as CEO. I also never said that CEOs weren't valuable, but then again, we weren't talking about CEOs, we were talking about (as you called them) "average Americans." Teachers do work harder than the average American. A CEO does not have a hand in shaping the future of our country, he or she makes a lot of money by managing people. Again, I say, that CEO could not have been CEO without the hard work and financial sacrifice of a teacher. Did you make it without a teacher? EVERYONE who makes it has a teacher that assisted. EVERYONE.
Me:
(I did have one good English teacher in high school, although I still don't like the subject.)
The teachers had products and services produced by companies run by CEOs. Where would you teachers be without computers, paper, pencils, desks, electricity, etc, etc, etc...
I would love to see you tell an "average American" that you work harder than that person does.
If I can produce someone who was successful home schooled, then I think that I will prove your point incorrect.
If one example is not enough, tell me how many people who are examples of the wrongness of your point must I produce before you admit your mistake?
We seem to have come to an interesting point: you claim that I under value teachers, and I claim that you undervalue CEOs.
However, even if we are both wrong about our undervaluing, the most reasonable solution (it seems to me) is to let the people writing the checks for the teachers and CEOs decide how much they should be paid.
The reason those of us on the right complain about teacher pay is because we are paying the taxes that pay for things like teachers. We have no choice in the matter. On the other hand, if you decide that you do not like CEO x, then you can decide not to purchase products or services from that company. (Many companies do engage in crony capitalism, and get special rules and subsidies, and this is also wrong.)
***
Bermille
Thanks for legitimizing their protest Mittnuts.
Me:
Are you saying that their strike was not legitimate before Romney spoke about it?
Bermille
No I am saying his argument is meaningless.
Me:
How is saying that it is wrong for teachers to walk out on their students a meaningless point?
Bermille
Because they are fighting for the students.
Me:
I think I understand liberal logic better now:
teachers not teaching = fighting for students
teachers demanding more pay = improving students' lives
poor student performance = not teachers' fault
Bermille
Wrong. Republicans thinking = no logic just republican spin
How can I argue with that? :)